Popular and best budget smart TV's that you should know.
108-cm (43) Full HD LED TV from Mi. Apart from featuring 1 GB of RAM and 8 GB of storage space, this TV also comes with cinematic sound quality, a rich range of colors, and multiple connectivity options. Also, with Patchell and Google Voice Search, navigating and finding content to watch is simple and convenient.
Full High Definition
Enjoy watching your favorite movies and TV shows in stunning picture quality, thanks to its 1080p Full HD screen and the powerful 7th generation picture quality engine.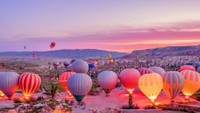 Gorgeous Visuals
It features a 7th generation Advanced Imaging Engine which reduces noise intelligently. Discover every detail with rich color and enhanced brightness.
No Limit on Entertainment
This Mi TV ships with Patchwall with Android TV. With Patchwall you get access to over 700,000+ hours of content from 14 content partners. You also get deep integration with Set Top Box, so you can search and watch all your favorite content with a single remote.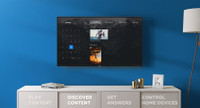 Google Android TV
Patchwall with Android TV brings the best of both worlds. With Android TV, you get access to Chromecast, Google Voice Search, Google Play store & YouTube.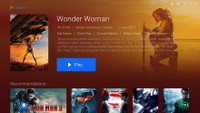 Find Content with Ease
While PatchWall curates and recommends content for you, Universal Search helps you find the content you wish to see. Also, the One Remote and the One Interface model enhances your STB and SmartTV experience.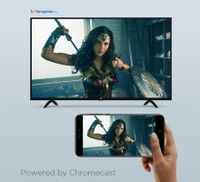 Chromecast
With Chromecast built-in, you can cast thousands of applications directly from your phone to Mi TV over Wi-Fi.
The Vu Ultrasmart TV is here to ensure that you get unlimited entertainment with its Premium Licensed Netflix, Prime Video, and YouTube apps. Equipped with a VOD processor, this TV ensures upscaled picture and sound when you watch content. This means that all that you watch on the screen will be free of lags and delays. It makes use of a unique and smart interface to provide you with an enjoyable and easy way to access smart content.
Ultra Experience
This TV comes with inbuilt Premium Licensed apps for Netflix, Prime Video, and YouTube. It can also upscale VOD picture and sound quality. You can enjoy Indian content with Eros Now, Hungama Play, and other preloaded apps. You don't have to wait long to fire up your favourite apps as the remote control comes with 4 hotkeys for Netflix, YouTube, Prime Video and your apps list. You can wake up your TV on LAN or WiFi using a screencast feature inside an app. Using this TV's overlaid interface, you can interact with the Smart UI while watching content.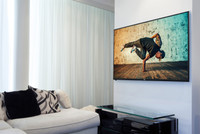 Ultra Bright
Equipped with the Ultrasmart High Bright panel, you can watch your favourite movie or show even on the sunniest of days. The brightness and contrast are automatically upscaled to allow this. The smallest details on the screen will stand out as adaptive contrast adds depth to the dark areas and makes the light areas brighter. You can choose the Cinema mode when you're watching something in the night, in a darkened room. The Natural mode is best suited for daytime watching. The Sports mode helps optimise the picture and upscales motion so that you can enjoy every moment of your favourite sports matches. The Digital MPEG Noise Reduction feature ensures clear and sharp picture quality, every time.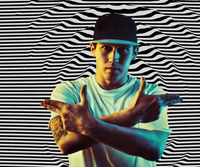 Ultra Sharp
Dolby Digital Plus provides advanced surround sound tech that is an established standard for cinema, broadcast, and home theatre surround sound – eliminating the need for extra speakers. The Tonic Sonic feature of this TV helps optimise the overall sound quality by enhancing the bass and ensuring clear human speech. The Total Volume feature maintains a steady level of loudness while Total Surround makes use of psychoacoustic processing to ensure that the sound moves around the room. With the Late Night sound mode, you won't lose out on dialogue clarity even when the volume is turned down. While you listen to music on YouTube or from your USB, you can turn off the TV display and use only the audio.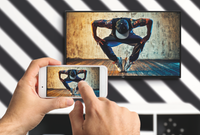 Ultra Connected
You can cast content from YouTube or Netflix from your phone to the TV screen. AnyView Cast or the DLNA network can be used to share anything from your smartphone. You only need one remote control to control your HDMI connected CEC compatible devices. And, you can connect your external ARC sound system with a single HDMI cable.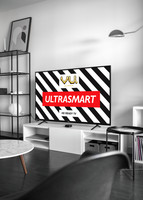 Ultra Advanced
This TV comes equipped with a streaming algorithm that calculates your Internet's bandwidth. Its CPU delivers your movies, shows, and other VOD content in upscaled HD quality – without any lags or delays. You can also stay up to date with Over The Air (OTA) updates as data and other update packages for your TV's software or hardware driver come straight to your TV.

Watch movies, sports, series and much more with vivid and lifelike details on the Samsung Series HD Ready LED TV. With its HD Ready Screen and 20 W Speaker Output, this TV will enhance your viewing as well as your aural experience. What's more, you can also plug any USB-enabled device into this TV and enjoy unlimited streaming.Product DescriptionWhether you want to watch a rom-com flick or action series, this Samsung Series HD Ready LED TV will not let you miss out on any detail on the screen. With its HD Picture Quality and the Wide Color Enhancer Technology, this TV will delight your senses and improve your viewing experience.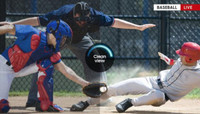 Clean View
It helps in reducing noise and interference and provides a refined image quality, enhancing the contrast and color of the pictures.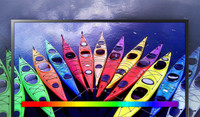 Wide Color Enhancer
It helps in improving the image quality and delivers lifelike pictures with sharp details and vibrant colors.
HD Picture Quality
Now, you can enjoy a plethora of programs with vivid and crisp details.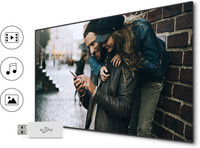 Connect Share Movie
Do you want to watch a video of your choice that's on an external storage device? You can simply plug any compatible USB-enabled device to your TV and watch your favorite content on its big screen.
Micromax 81cm (32 inch) HD Ready LED TV with IPS Panel
Watch everything on this TV from Micromax come to life. The IPS Panel and the Crystal Luminous Colour Polarisation (CLCP) technology deliver pictures that are incredible detailed and vivid. The Surround Sound Speakers won't let you miss the subtle details of the audio.Product DescriptionTake entertainment to the next level with this TV from Micromax. The IPS Panel and the Crystal Luminous Colour Polarisation (CLCP) technology ensure that everything on its screen is crystal-clear and vibrant. The Surround Sound Speakers and the Five-band Equaliser feature give you an immersive aural experience.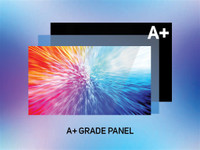 A+ Grade Panel
The Zero Bright Dot Panel enables vibrant visuals such that everything on its screen is incredibly detailed, making your viewing experience more real.
IPS Panel
The In-plane Switching Panel, with a 178-degree viewing angle, lets you watch TV from almost any corner of the room. This panel ensures that the color is uniform throughout, and that it offers brilliant clarity.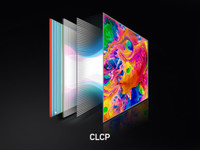 Crystal Luminous Colour Polarisation (CLCP)
This technology provides crystal-clear pictures with high colour quality by polarising light.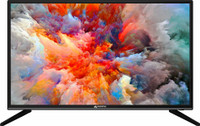 Elegant Finish
This TV not only gives you a great multimedia experience, but it also boosts your living room's decor. Its simple yet elegant finish creates a stylish effect, giving a look of finesse.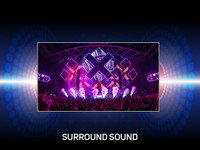 Surround Sound Speakers
These speakers offer you a concert-like feel right at home. Hear those loud gunshots as if you are in the middle of a battlefield – these speakers give you truly immersive acoustics.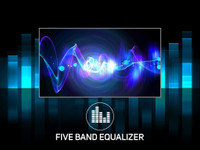 Five-band Equaliser
You can now customise sound frequencies based on the content that you are watching so that you can have an immersive audio experience. You can turn up the bass for your music or EQ the bands while you are binge-watching a TV show.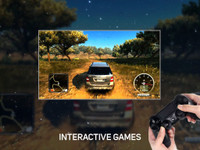 Interactive Games
Kids or adults can enjoy playing games such as Sudoku, Tetris, Boxman and more using this TV's exclusive gaming OSD feature.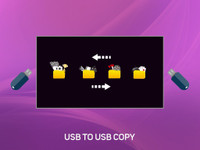 USB to USB Copy
This feature lets you copy from one USB to another directly from your TV.
The 80 cm (32) Thomson LED television is here to make your weekend binges even more delightful with its user-friendly interface that gives you instant access to what's trending, sports updates, weather updates, and your favorite applications. Its 20-W output speakers enhance your viewing experience with rich sound clarity.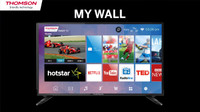 My Wall Interface – Your Likes are Now Easily Accessible
Gain access to all the latest movies, music, sports, and trending videos via the user-friendly My Wall Interface.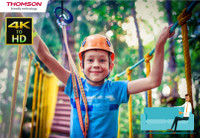 Play 4K in HD
Make every visual appear better on this television as it has the codec's license to convert your favorite 4K videos to HD.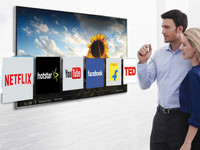 Smart TV for the Smart You
What do you use your personal computer for? To access emails, download attachments, play games, and check your social feeds? Well, you can do all of this even with this smart television at the touch of a few buttons.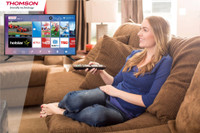 Preloaded Apps for Convenience
You can easily access your favorite portals such as Hotstar, Netflix, VLC, Youtube, Gmail, and Facebook, as they are already preloaded on your television for convenience.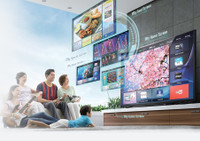 Download and Update Your Favorite Applications
Choose and download a wide range of applications that fall under various genres including movies, news, sports, music, games, lifestyle, and tools to make your life easy and simple.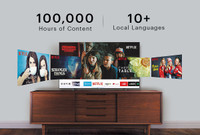 Content to Your Liking – 10,000,000 Hours of Content
Enjoy an array of content from various apps that include entertainment in 10 different Indian languages and 15 International languages.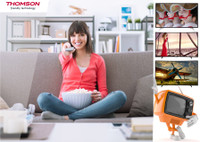 Quick Search and Weather Updates
You can update your city weather for the next three days and access them on the My Wall Interface. You can also search for your favorite content easily, with the help of the Quick Search feature.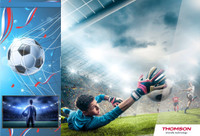 Unlimited Sports Content
Are you a sports-fanatic? Then the My Wall Interface will be your one-stop portal to access top trending videos about cricket, tennis, and motorsports.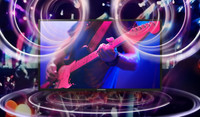 Cinematic Surround Sound
Videos will be even more delightful with great sound clarity. This television comes with 20-W output speakers that enhance your viewing experience with clear audio. You can utilize the 5-sound Mode for rich audio and do away with the need for any external speakers.
Responsive Gaming Experience
Transition yourself into the realms of the virtual universe as this television brings your games alive with vibrant graphics and colors.